While African ceremonies photographers Carol Beckwith and Angela Fisher's extraordinary careers are by no means at their end, they're already beginning to think about how best to pass on their work to future generations.
In a career spanning 40 years, in which they photographed 200 cultures from 45 African countries, they have created a collection of some 500,000 photographs, diaries and journals, sketches, and videos. Known as the Beckwith Fisher Archive, it's their intention to place what will effectively be their estate with an institution easily accessed by academics and general public alike.
As I understand it, Beckwith and Fisher are still in the process of selecting the institution likely to hold the archive. In the meantime, they continue make the collection archive ready, collating, cataloguing, and categorising materials, a task supported by their charity African Ceremonies Inc, which is dedicated to preserving African ceremony documentation for posterity, and which supports community and individual projects that serve the needs of the people whey have lived and worked with.
To which end, last night and earlier today, Beckwith and Fisher were to be found in New York fundraising for the charity and promoting African Twilight, their latest book. Hosted by Donna Karen's own not-for-profit Urban Zen, first at Karen's home in East Hampton, and then at Urban Zen on Main Street, they will have discussed plans for the archive, shared news about their projects, and introduced, sold, and signed special edition copies of African Twilight.
While I wasn't there, I'm sure Beckwith and Fisher will have discussed the Omo. I know that Donna Karen has travelled there with the photographers, and that all three were guided by Lale Biwa, who was over in London only this June. The Omo is dear to Beckwith and Fisher's hearts, and serves as destination for several future impact travel collaborations with Wild Philanthropy, the photographers guides to the communities for whom they have been the most extraordinary of witnesses – many of which face imminent cultural extinction.
I know both events will have been a wonderful success, and if you didn't get the chance to attend either, then fear not. Beckwith and Fisher are on an extraordinary mission, one that takes them to across America in the coming week, and then, no doubt and one day, to somewhere near you. In the meantime, if you're interested in learning more about the photographer's collaborations with Wild Philanthropy, then please do get in touch.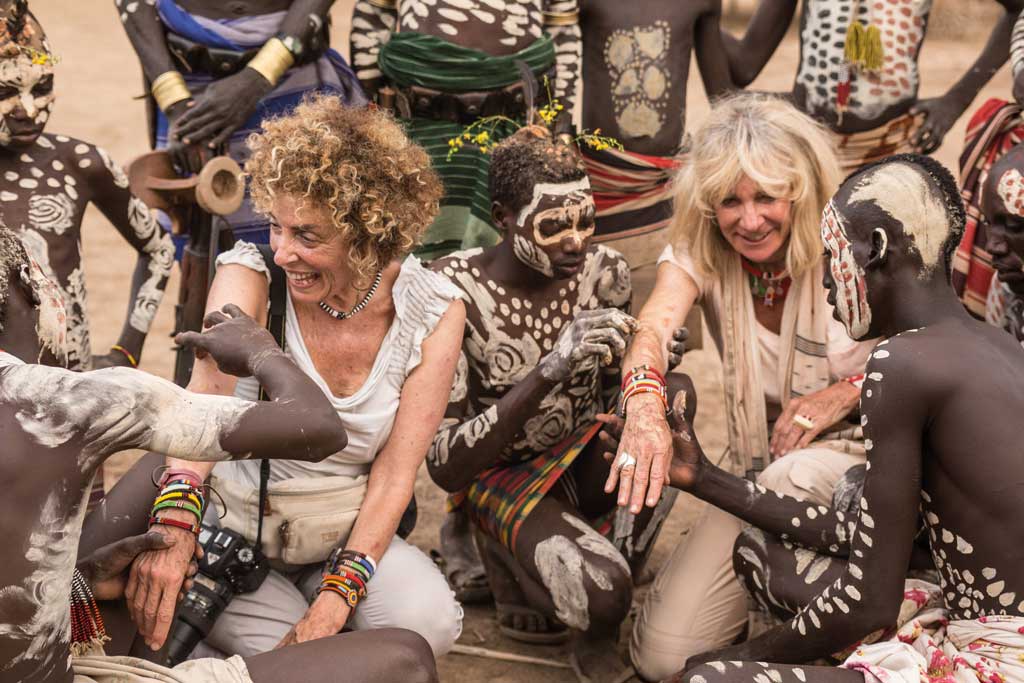 Image Credit: Carol Beckwith and Angela Fisher