Virunga National Park has set up the Nyiragongo Disaster Relief Fund in response to the Democratic Republic of Congo's stratovolcano's most recent eruption, which resulted in the northeast flank being breached and a 60 kilometres per hour lava flow that laid waste to hundreds of homes, has claimed 32 lives and counting, displaced thousands, and cut off the city of Goma's source of power, including access to water.
One of Africa's most volatile volcanoes, Nyiragongo sits in the East African Rift Valley between two dividing tectonic plates, Somalian and Nubian. Owing to the fact that its lava contains less silica than the average magma, its flow is dangerously fast. At the same time, it also contains higher than usual levels of carbon dioxide. While always difficult to say as to when it might next erupt, indicators include a rise in lava lake levels, a danger highlighted in 2020, by volcanologist Dario Tedesco and team, who predicted a possible breach in four plus years (though sooner in the event of earthquake), and citing Goma as particularly vulnerable.
Tedesco would go on to describe Nyiragongo as the most dangerous volcano in the world. Observations by the underfunded, vandalised, and perennially threatened Goma Volcano Observatory earlier this month noted increased seismic activity. Unfortunately, monitoring efforts have been compromised by militia activity, making it that bit more difficult, one assumes, to map findings against extant data. Tedesco is reported as having said 'if things remain like this, there is little to be optimistic about'. He appears to have been right on every count except timings. It happened much sooner than expected.
Since the eruption on 22 May, the humanitarian effort has been hampered by downed essential services and impassable roads. However, an emergency Council of Ministers saw the Republic's president call for better civil protection and disaster prevention and a clearing of gas from Lake Kivu and the Gulf of Kabuno. A network of humanitarian groups have assisted in rapid situation assessments, the setting up of reception areas. The EU has allocated €2 million in emergency funding, with priority going to water supply, rehabilitation, sanitation and hygiene, health care, and child protection.
Meanwhile, a team of volcanologists currently monitors the crater and another is set to work with the Goma Volcano Observatory. There have been a number of earthquakes following the eruption and there is concern that they could trigger another similar eruption. Much worse, there are fears that the seismic activity could cause some of the 70 cubic miles of carbon dioxide trapped in Lake Kivu to be released. Unfortunately, people die every year of carbon dioxide asphyxiation. The sudden release, however, of even a small part of Kivu's trapped gas is much more serious. Known as a limnic eruption, it's extremely rare, though something similar occurred in Cameroon, in 1986, when just 0.3 cubic miles of gas released from Lake Nyos resulted in the death of over 1,700 people. Hence, I think, the aforementioned presidential decree.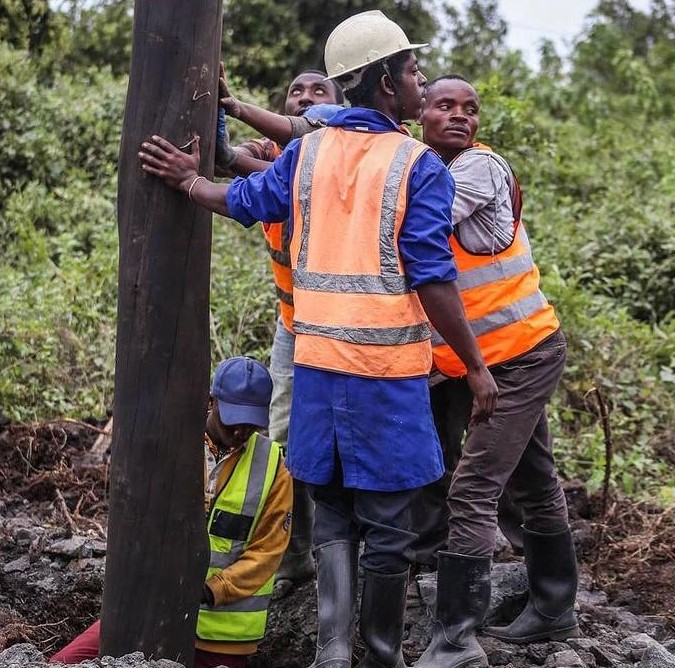 In and among all this Virunga National Park has been at the forefront of the relief effort. It supplies 70% of Goma's power. The area already badly affected by the relative chaos of militia rule. This together with a the loss of power and the numbers of displaced threatens a humanitarian crisis that will dwarf the immediate effects of the eruption. Frontline services – hospitals in particular – are in freefall. To quote the park's appeal: 'The region of eastern Congo is one of the most vulnerable areas on the continent. Decades of war have led to extreme poverty. Already limited resources are under enormous strain and the people of Goma and the surrounding area are in need of urgent assistance.' If you can help, then please do.
All images © Virunga National Park