The Northern Rangelands Trust aims to support communities to govern their wild spaces; protect their wildlife; identify and lead development projects; manage sustainable businesses linked to conservation; spearhead peace efforts to mend years of conflict; and develop locally-led governance structures that complement traditional systems.
A community conservancy is a community-based organisation created to support the management of community-owned land for the benefit of livelihoods. Conservancies work to improve governance and representation for their members by building on traditional cultural structures, and empowering women and youth in particular to become agents of change. Good governance enables livelihoods and development projects to be owned, driven and maintained by local people, as well as providing a solid point of contact for donors or investors. The Northern Rangelands Trust raises funds for their conservancies, providing them with advice on how to manage their affairs, supporting a wide range of training, helping broker agreements between conservancies and investors, and monitoring performance.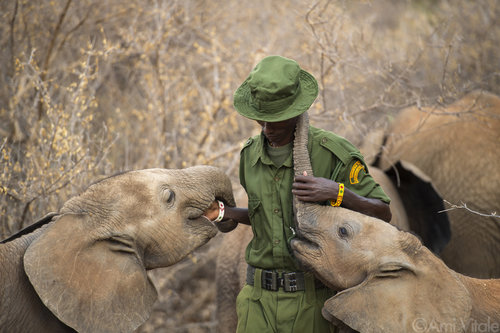 Lewa Conservancy, a private wildlife conservancy, recognised that it was imperative to the long-term success of conservation that pastoralist communities were involved and benefitted from their ecosystems. In 1995, the Lewa Conservancy invited elders from the local Il Ngwesi community to visit Lewa, where wildlife-based tourism was generating considerable income and was operating in conjunction with livestock production. Won over, Il Ngwesi and Namunyak were the first two community conservancies to be established in northern Kenya. As the number of communities interested in conservation grew, Lewa Conservancy set up the Northern Rangelands Trust in 2004 to act as an umbrella organisation for community conservancies.
Wild Philanthropy fundraise for member conservancies and provide advice and guidance on management. We support a wide range of training, monitor performance, and work as an independent third party in support of conservancy partnerships with county and national government, investors and development partners.